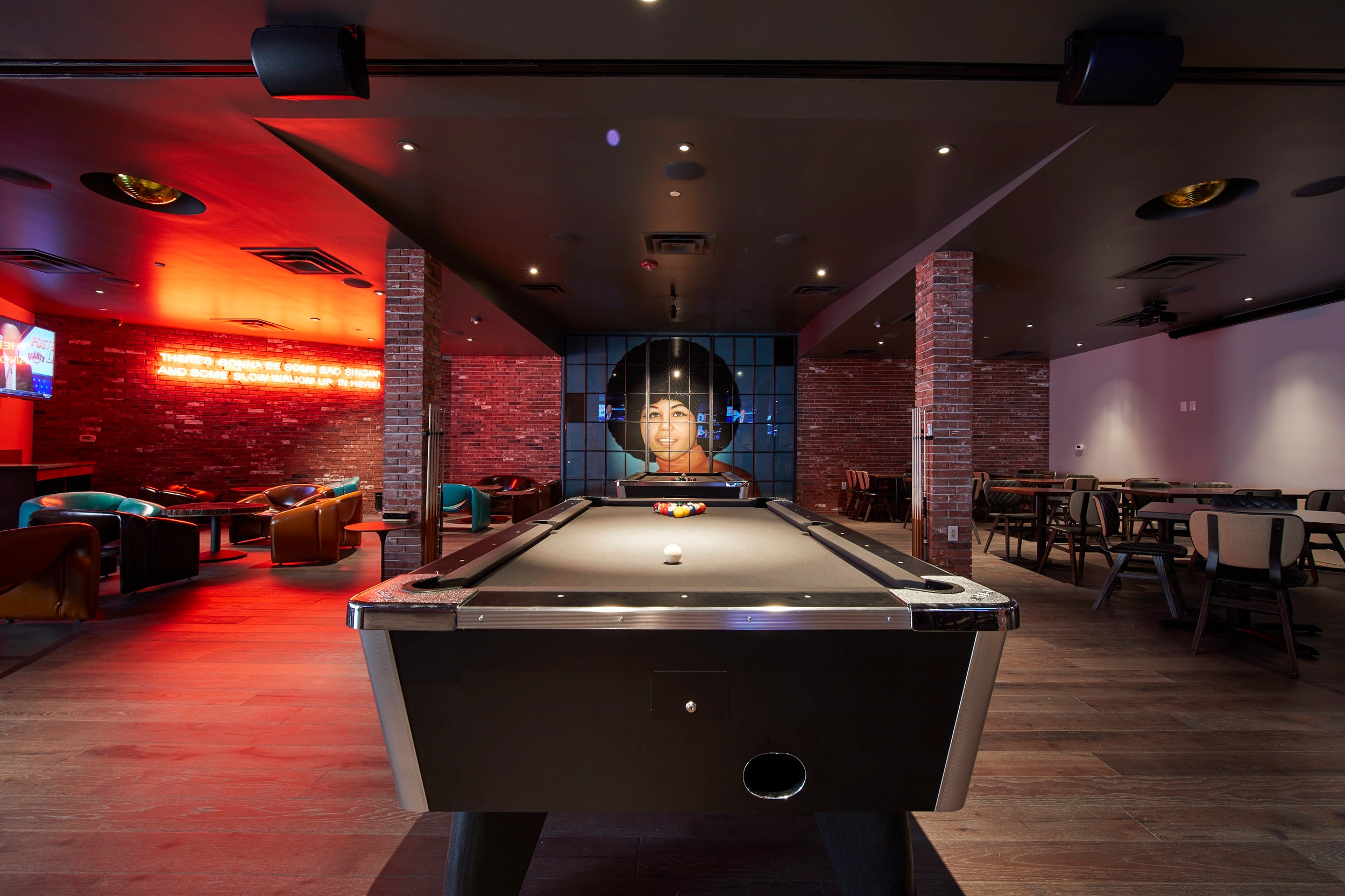 COMFORT FOOD ◦ WHISKEY ◦ ENTERTAINMENT
Welcome to Hazel Southern Bar & Kitchen
We aim to give mid-market a fusion of Southern food ranging from Texas Smoke, to Louisiana Creole, and all the way to Georgia home cooking. Our bar is stocked with over 300 different whisk(e)y choices, produces great cocktails, a selection of many different types of beer - all at a price that won't break the bank!
Phone
(415) 964-9644
Location
1446 Market Street San Francisco, CA 94102
Hours
Kitchen
Mon 5p–10p
Tues 5p–11p
Wed-Th 5p–12a
Fri 4:30p–1a
Sat 5p–1a
Bar
Mon 4p–10p
Tues 4p–11p
Wed-Th 4p–12a
Fri 4p–1:30a
Sat 5p–1:30a
Happy Hour
Mon & Sat All Day!
Tues-Fri 4p–7pm
Late Night Happy Hour
Tu-Sat 10pm-Close
NFL SUNDAYS
Sun 5pm-9pm
*special food menu and all day happy hour!
Call (415) 964-9644 from 5:00 pm – close daily, or book online with OpenTable.
Reservations are highly recommended to guarantee seating!
$

11
Peach Smash
101 rye whiskey, fresh watermelon, citrus, mint
$

13
Smokin' Cactus
mezcal, lime, grapefruit, agave, jalapeno
$

11
Blood Orange Margarita
tequila, blood orange, lime, agave, orange bitters, spiced rim
$

11
Southern Greyhound
vodka, grapefruit, lime, mint
$

13
Toki Highball
japanese whisky, q soda, hard cider float
$

11
Purple Orchid
peach & orange blossom infused vodka, butterfly pea leaf tea, fresh lime, orchid garnish. (no added sugar!)
$

13
Ginger Mint Julep
rye whiskey, ginger syrup, mint, pineapple, sugar
$

11
Sazerac
rye whiskey, sugar, bitters, absinthe
$

12
Vieux Carre
rye whiskey, VSOP cognac, sweet vermouth, benedictine, amaro, bitters
$

13
Vanilla Spiced Old Fashioned
bourbon, vanilla spice syrup, bitters
$

12
Botanical Gin Old Fashioned
gin, sugar, lavendar bitters
$

11
Creole Rum Old Fashioned
rum, sugar, orange bitters
$

13
Smoky Mezcal Old Fashioned
mezcal, sugar, grapefruit bitters
$

13
Campfire Old Fashioned
american/scotch whiskey blend, maple reduction, bitters
$

8
Lagunitas
"super cluster", mega ale
$

7
Abita
"turbodog", brown ale
$

9
Almanac
love hazy, IPA
$

7
Dogfishhead
american beauty
$

6
Modelo
especial, lager
$

8
Fort Point
masonic park
$

8
Angry Orchard
hard cider
Wings, Wings, Wings!
all wings are served with a side of ranch
$

12
Spicy Buffalo
a full pound of wings tossed in our housemade buffalo sauce
$

12
Barbecue
a full pound of wings tossed in Big Daddy D's BBQ sauce
$

12
Lemon Pepper
a full pound of wings tossed in lemon pepper seasoning
$

12
Soy Glazed Smoked
a full pound of unbreaded wings tossed in a soy reduction and topped with pickled fresno chilis and jalapenos
$

12
Garlic Parmesan
a full pound of wings tossed in garlic and shredded parmesan
$

20
Chicken and Waffles
Hazel's fried chicken with sweet potato waffles, covered in a bourbon maple syrup
$

16
Gator Bites
deep fried pieces of Louisiana alligator & okra served with a side of cajun garlic aioli.
$

9
Mac & Cheese Balls
served with warm pimento cheese sauce
$

8 /

$

12
Fried Chicken & Andoullie Gumbo
a classic creole-style recipe served over jasmine rice
$

6
Cajun Fries
golden, crispy french fries tosed in cajun spice and served with a side of Ketchup
Salads
add chicken $5 / add shrimp $6
$

12
Warm Beet & Arugula
roasted beets, arugula, onions, goat cheese, raspberry vinaigrette
(Gluten Free, Vegetarian)
$

13
Kale Caesar
baby kale, parmesan, croutons, cajun caesar dressing.
$

14
Heirloom Tomato Salad
heirloom tomatoes, feta cheese, cucumber, mint, herb couton crumble, sherry basil vinaigrette
$

18
Shrimp and Grits
blackened jumbo prawns, cheesy stone ground grits, chives
$

16
Blackened Shrimp
served on a bed of arugula, tossed in lemon vinaigrette, served with a side of garlic caper aioli
$

21
Oxtail and Grits
braised oxtail, cheesy stone ground grits, beef stock reduction (available Fri and Sat ONLY)
$

15 /

$

22
Hazel's Fried Chicken Dinner
Hazel's perfectly fried chicken with pickles, served in a skillet with cornbread and your choice of either mac & cheese or collard greens. (2pc or a half bird)
$

19
Blackened Catfish
blackened spiced catfish, served over a bed of fried cabbage and a side of tartar sauce
$

17
Applewood Smoked BBQ Ribs
a half rack of fall-off-the-bone goodness with housemade BBQ sauce and a side of cornbread.
$

17
Blackened Tofu
served over ancient grains, seasonal veggies, and wilted kale
(Gluten Free, Vegetarian, Vegan)
Mac & Cheese
(Vegetarian)
Collard Greens
(Gluten Free)
Fried Cabbage
(Gluten Free)
Sauteed Green Beans
(Gluten Free, Vegetarian)
Buttermilk Cornbread Muffins
(Vegetarian)
$

9
Key Lime Pie
a sweet and tart key lime filling in a graham cracker shell, topped with whipped cream
$

9
Beignets
soft, light and fluffy pastries covered in sweet powdered sugar and a side of blackberry jam
$

9
Peach Crumble
roasted peaches with spices, brown sugar, and topped with a graham cracker crumble
Private Events
Whether you are holding a private dinner, holiday party, corporate event, or celebrating a special occasion, our venue has many options to help make your experience memorable! With different room configurations, we can custom tailor our space to you.
Our Southern-inspired kitchen is able to provide all sorts of options such as passed hors d'oeuvres, seated dinners, buffets, and carving stations.
With all of the tech in the area, we have a state-of-the-art AV system! HDMI inputs, audio inputs, and 16 individually controlled TVs and a projector give you the freedom to enhance your event.
Please complete the form below AND we will get right back to you
Hazel Southern Bar & Kitchen
1446 Market Street
San Francisco, CA 94102
Contact Us
For more information regarding reservations, private event inquiries, directions, or if you just want to talk to somebody, please fill out the form to the right.
We look forward to hearing from you!